Did You Know You Could Logo Hand Sanitizer?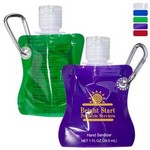 Collapsible Hand Sanitizer
1 Oz. hand sanitizer on handy carabiner clip. On-the-go anti-bacterial gel in a convenient polyethylene collapsible container. Effective at eliminating 99.9% of germs and bacteria. Complies with FDA....
$1.25 - $1.59
Looking for Promotional Products?

You've come to the right place! We are promotional product experts who are committed to your success.
Whether you are looking for a specific item or just browsing for ideas, our site is your one-stop shopping source. From fun items to the traditional, you can easily search for some of the hottest items on the market, and we are here for you 24 hours a day - 7 days a week.

Quickly and easily search our vast database of products for items to:
Unify your company

Motivate staff

Thank a customer

Increase brand awareness
When you find what you are looking for, please contact us so we can discuss your needs in greater detail, or use our shopping cart to submit your order-- our secure check out makes it safe, easy and convenient. If you are just browsing, click on our 'request for more information' option and we will contact you shortly.
One World, Forward Thinking
Here at MarketShare, not only do we want what is best for the customer, but we take a more global view. That is why we strive to use companies that are part of the Quality Certification Alliance (QCA). These companies follow standards that make them and their products safer, more environmentally friendly, and more mindful of social priorities. Similarly, we recognize the importance of ordering from US-made companies, and do so with frequency.
Quick Shop